---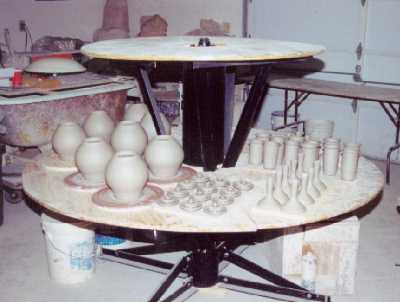 We are great believers in wheels. In fact, the wheel was originally invented by early man not for transportation, but for the production of pottery! It was only centuries later that the the wheel was moved from a horizontal to a vertical position, and adapted for transportation uses. In the studio, all of our small electric bisque kilns are on wheels so that they can be easily relocated, and so is the old claw-footed bathtub we use to mix clay. But the greatest labor-saving tool we've ever found is the Jepson Revolutionary Table.
Designed by Florida potter Stephen Jepson, these tables were built by us from Stephen's plans. The smaller of the two, pictured above, has a six foot diameter table on the bottom and a four foot diameter table on top. The height of the bottom table is keyed to the height of the throwing wheel, and the two sit right next to each other. While throwing, balls of clay are lined up on the table and turned into individual pots on the wheel. The freshly-thrown pot is then set back on the table, which is rotated as work progresses, and the next ball of clay is picked up for the next pot. When the pots have dried enough for trimming, they are simply rotated back around to the wheel and trimmed and replaced. This really minimizes
the handling of the pieces.
The larger table, pictured below, has an eight foot diameter table on the bottom and a 32 inch diameter table on top. This table is used in the glaze studio and holds all the pots that can be glazed in one day. With the glaze buckets placed around the table, the pots can be grouped on the table according to the glazes to be used, and then rotated to whatever position is closest to the desired glaze bucket. This table is also adjacent to the spray booth, so that pots can be easily picked up for glaze spraying with little wasted motion. As pictured below, this table can hold nearly the entire finished production from our 60 cubic foot gas kiln, around 250 small to medium-sized pieces.
Stephen claims that these tables can save up to two hours a day in productivity, and in our experience he ain't lyin' ! Amazingly, he says that no one else, besides him and us, has built one of these tables and taken advantage of all the benefits they have to offer!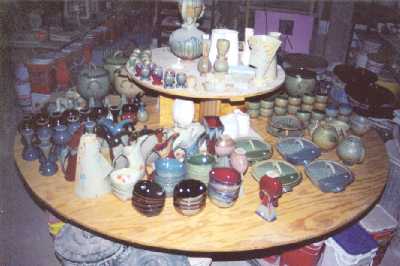 ---
home | gallery | studio tour | schedule
wood fire | about us | to order | faq | links
Copyright © 2002-2004 Pillers Studio Clay