In early 2001 we build a small wood-fired kiln based upon a design by Prof. Manny Hernandez of Northern Illinois University. Manny and Potters for Peace have built many versions of this design around the world, including over 30 in kilns NIcaragua alone, some of which were for individual potters, and some for firing low-tech water filters to a fairly low temperature. We felt that, by using high-quality refractories available in the U.S., this design could be adapted for high-fired ware, and that it would be useful to have a "Mani-kiln" available in the U.S. for research and development.

To date, we have fired this kiln about 5 times. So far, it fires great up to about 2000 degrees, but we have had difficulty in gaining temperature after around 2100 degrees. Although it has two fireboxes under the stacking chamber, it seems to fire more smoothly alternating between the two, using only one at a time.

Some of the results of our efforts can be seen on this page. In contrast to our gas-fired ware, the 'flashing' from the wood firing gives the clay body an added warmth, and the fly-ash imparts a more mellow, subdued quality to the wood ash glazes. Many pieces are placed on seashells and fired on their sides, causing the glazes to appear to defy gravity as they flow across and around the pots, while the seashell scars add character by evidencing the action of the fire.

These pots are our passion and our hobby, but, due to the labor-intensive nature of the wood-gathering and firing process, they are only produced irregularly, during cool weather. Call for availability information. Click on pictures below for more details about the pots shown.

All Designs and Images Copyright © 2002 R & B Pillers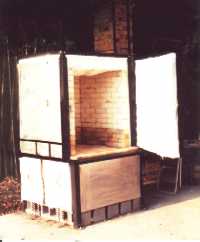 Our Mani-kiln before firing.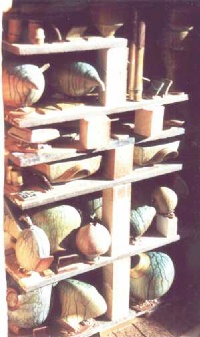 Mani-kiln pots after firing.